Welcoming New Members
HathiTrust for Newbies: Learn the Basics and More
HathiTrust User Support Holiday Hours
Coming in January 2021: NEW Public Domain Items
Now Available: New Download Formats
Pop-up Ask Me Anything! Coming in January to HathiTrust Community on Slack
Webinar Series Invitation: CDL, CRL and HathiTrust Collection Comparison Tool and its Application in Shared Print
From the Collection: Music, Music, Music
Welcoming New Members
We are pleased to announce that Connecticut College has joined the HathiTrust member community. See the full membership list on our website. 
HathiTrust for Newbies: Learn the Basics and More
A number of videos are available on HathiTrust's YouTube channel that offer both broad overviews of HathiTrust and deeper dives into topics. Whether you are a new member in 2020, a new member representative for your institution, or just someone who wants to know more about using HathiTrust services and collections, check out the following videos by HathiTrust experts:
Introduction to HathiTrust: More than a Digital Library (August 2020. 43 minutes.)

HathiTrust 101: Integrating HathiTrust Records into Your Catalog (August 2020. 29 minutes.)
HathiTrust 101: Contributing Content to HathiTrust (August 2020. 46 minutes.)
HathiTrust 101: Accessible Text Request Service (September 2020. 43 minutes.)
HathiTrust User Support Holiday Hours
HathiTrust User Support will be out of the office during the United States holiday break from Wednesday, December 23, 2020 through Sunday, January 3, 2021. The team will still receive patron messages at feedback@issues.hathitrust.org , but there may be some delay in response. The full-time staff of HathiTrust will also be taking holiday time and will respond to inquiries as soon as they are able.
ETAS Holiday Support Reminder
With regards to ETAS support, we will be unavailable to respond to non-emergency inquiries during the holiday break and will not be conducting activation or reactivation assessments. A new round of assessments will begin in early January. For service questions, please contact feedback@issues.hathitrust.org . 
Coming in January 2021: NEW Public Domain Items 
In January, HathiTrust will open more than 35,000 items in the collection originally published in 1925. All of these will be viewable in the U.S., and some globally. A second collection of 27,000+  titles newly opened to the world includes items published before 1900 in Canada or Australia, or before 1880 in other non-U.S. locations.
Take a look at the list of titles that will become available in HathiTrust beginning in January 2021. Note that the titles in these collections are NOT currently available for viewing or download as they are still noted as copyrighted in the bibliographic record that determines its status in the HathiTrust collection. 
Worldwide Collection January 2021
With thousands of contributions from member libraries, HathiTrust is uniquely positioned to increase public access to these items available in its digital repository and to preserve these items for access long into the future. 
If you see a gap in the collection that you think your library can fill with a digitized content deposit, please let us know! Contact HathiTrust at feedback@issues.hathitrust.org 
Now Available: New Download Formats
A new feature permits logged-in users from member institutions the ability to download public domain and CC-licensed titles in multiple formats, enabling them greater ability to use the items in different readers or devices. 
Download options now include:
PDF 

EPUB 

JPEG image 

Plain text (.txt)

Plain text (.zip) 
Read more about the  Additional Download Formats. 
Pop-up Ask Me Anything! Coming in January to HathiTrust Community on Slack
Beginning in January 2021, the HathiTrust Community Slack will host regular Pop-Up Ask Me Anything (AMA) sessions in which, on a designated day and time, a member or group of members will be online to answer questions on a specific topic. Topics may include measuring success with HathiTrust, integrating HathiTrust records into catalogs, using HathiTrust at the reference desk, and promoting HathiTrust.
The first Pop-Up AMA  session will be on January 20, 2020 at 2:00 pm ET/11:00 am PT  and will be hosted by Chan Li, University of California, Berkeley (HathiTrust member since 2008) and Kathryn Stine, California Digital Library (HathiTrust member since 2008). They'll be on hand to share their experience and answer questions from other Slack community members on how to obtain value from the Emergency Temporary Access Service (ETAS) usage reports. 
More than 200 HathiTrust members have joined  the HathiTrust Community on Slack since its launch in October. People affiliated with member libraries are welcome to join. Please submit a request by emailing feedback@issues.hathitrust.org . 
Webinar Series Invitation: CDL, CRL and HathiTrust Collection Comparison Tool and its Application in Shared Print 
A new webinar series is underway with the final session scheduled in January. Hosted and presented by the California Digital Library, Center for Research Libraries, and HathiTrust Shared Print Collaboration, the webinars highlight the upcoming release of an openly accessible collection comparison tool. Users will be able to compare their unarchived serial titles and holdings against the retention commitments and trusted digital holdings registered in the Print Archives Preservation Registry (PAPR). Webinars will be recorded.
Introduction to the Collection Comparison Tool for Serials and Journals (Nov. 10)
Connecting Print to Digital Using the Collection Comparison Tool for Serials and Journals (Dec. 10)
Recording will soon be available here: https://vimeo.com/cdlib
Demonstration of Collection Comparison Tool for Serials and Journals
January 13, 4 p.m. ET, 3 p.m. CT, 1 p.m. PT:
Register in advance for this meeting by clicking here .
From the Collection: Music, Music, Music
The HathiTrust corpus contains thousands of titles related to music. While not all items have been classified, there are at least 100,000 titles in three Library of Congress subjects: M (Printed Music), ML (Literature on Music), and MT (Musical instruction and study). Preserved for scholarship and access in the HathiTrust collection is the first sheet music by a Black composer published in the United States, the works of Francis Johnson.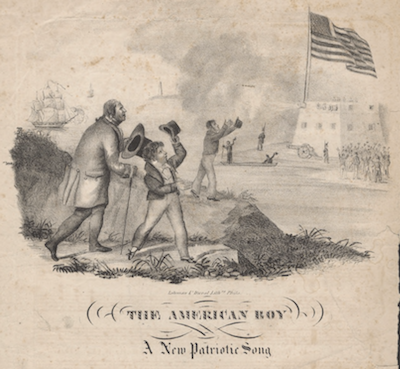 Caption : Cover image for the sheet music to "The American Boy." 
Title :  The American boy: a new patriotic song from the American Sentinel
Author : Johnson, Francis, 1792-1844.
Published : Philadelphia: J.G. Osbourn's Music Saloon, [between 1835 and 1842]. (Contributed by the University of Michigan, HathiTrust member since 2008.)
Francis 'Frank' Johnson was a celebrated and widely-published Philadelphia composer, known for being the first African American composer to have his works printed as sheet music. ¹

Title :  Samuel Coleridge-Taylor, musician; his life and letters
Author: Sayers, W. C. Berwick 1881-1960.
Published: London, New York [etc.] Cassell and company, ltd., 1915. (Contributed by University of California, HathiTrust member since 2008.)
Referred to by white New York musicians as the 'African Mahler', Samuel Coleridge-Taylor (not to be confused with Samuel Taylor Coleridge, the Romantic poet) fought against racial prejudice all his short life.¹
A collection of 3,000 items, mostly 19th- and early 20th-century musical scores by women composers held at the University of Michigan Music Library.
Beethoven books in the public domain  
To recognize the 250th anniversary of Ludwig van Beethoven's birth taking place in December, explore this collection of 200+ titles on or by Beethoven available in the public domain in the U.S. or worldwide. 
¹"9 Black composers who changed the course of classical music history," ClassicFM , October 6, 2020, www.classicfm.com/discover-music/black-composers-who-made-classical-musi....