Welcoming New Members to HathiTrust
Change in Board of Governors Leadership
Welcome to New PSC Members
ETAS: Upcoming Eligibility Assessment & Local Evaluation
ETAS Support: June Office Hours
Evaluating ETAS at Your Library
Ongoing HathiTrust Access
Statement of Values Ratified by Membership
Board of Governors Nominations Begin July 3
2021 Member Meeting: Community in a Time of Change
Help Improve the New HathiTrust Book Viewer
Participate in the User Engagement Task Force Survey: Awareness & Support
Shared Print Group Access Capabilities
From the Collection: In Praise of Insects
. . . And a Poetic Tribute to Brood X!
In the News, Publications, and Research: In Hathitrust, a poem
Welcoming New Members to HathiTrust
We are pleased to announce that The George Washington University, Grand Valley State University, Liberty University, Oregon State University, San Diego State University and The United States Military Academy have joined the HathiTrust member community. See the full membership list on our website. 
Change in Board of Governors Leadership
Yolanda Cooper, Dean and University Librarian at Emory University (HathiTrust member since 2010) has accepted a new role at Emory beginning later this summer.  On June 1 she departed her role as a member of and Chair of the HathiTrust Board of Governors. Holly Mercer, Senior Associate Dean at the University of Tennessee, Knoxville (HathiTrust member since 2013), is the incoming chair and will serve through the end of 2022. A new chair elect will be selected later this summer.  
The Board is grateful to Yolanda for her leadership and the work she has done in the past several years to advance the HathiTrust mission. Executive Director, Mike Furlough, says, "Yolanda had a key role in developing the Code of Conduct and Statement of Values, as well as planning membership strategies. I'll miss working with her and look forward to Holly's leadership going forward."  
Welcome to New PSC Members
The Board of Governors approved the appointment of the following four candidates to serve on the Program Steering Committee (PSC) for three years, beginning July 2021:
Christopher Cox, Dean of Libraries, Clemson University (HathiTrust member since 2019)
Dracine Hodges, AUL for Technical Services, Duke University  (HathiTrust member since 2010)
Nathan Mealey, AUL for Discovery & Access, Wesleyan University  (HathiTrust member since 2016)
Catherine Mitchell, Director, Publishing, Archives, and Digitization, California Digital Library  (HathiTrust member since 2008)


HathiTrust thanks departing PSC members: 
Maria Estorino, AUL for Special Collections & Director, Wilson Library, University of North Carolina-Chapel Hill  (HathiTrust member since 2010)
Anne Houston, Dean of Libraries, Lafayette College  (HathiTrust member since 2011)
Carmelita Pickett, Associate University Librarian for Scholarly Resources & Content Strategy, University of Virginia  (HathiTrust member since 2010)
Evviva Weinraub Lajoie, Vice Provost for University Libraries, University at Buffalo (HathiTrust member since 2018)
ETAS: Plans for Fall
The next round of ETAS assessments for libraries will begin in early August. Until that time, ETAS will automatically continue for any institution currently using the service, unless you write to request that we discontinue it for your users. For campuses with ongoing ETAS access, please continue to follow the ETAS Terms of Service, including the prohibition against lending any of your print titles that are available via ETAS. If you resume print lending of ETAS titles for any reason, please inform us as soon as possible so that we can deactivate ETAS for your institution. If you have questions about your particular scenario or wish to start, reactivate, or deactivate the service before August, please contact us at feedback@issues.hathitrust.org. 
ETAS Support: June Office Hours 
Two office hours sessions with HathiTrust staff in the coming weeks aim to help members navigate the various scenarios for using or discontinuing the Emergency Temporary Access Service.
Wed., June 16, 2:00 PM EDT/11:00 AM PDT 
Thurs., June 24, 2:00 PM EDT/11:00 AM PDT
Register for a session: https://forms.gle/boht89vC1zSG5hr99
Evaluating ETAS at Your LIbrary
HathiTrust is beginning to formulate its own assessment plan for the Emergency Temporary Access Service and has heard from many members of their local efforts to do the same. 
For those assessing the service at your library, a reminder that your ETAS contact receives  weekly usage reports outlining the number of unique check-outs, users, renewals, and individual item IDs for the service at their library. Read more about ETAS Usage reports and the overlap report of your items with the HathiTrust collection. If your library is among those conducting an evaluation or using ETAS evaluation data in a general library assessment project, we'd love to hear from you and support your effort where possible. Contact us at feedback@issues.hathitrust.org
Ongoing HathiTrust Access
A reminder that even if your library is no longer using ETAS, you can continue to integrate HathiTrust records into your catalog (such as those readily available in the public domain) and "turn on" these records in third-party discovery systems. Keep HathiTrust resources at the forefront of user discovery!
Statement of Values Ratified by Membership
HathiTrust membership ratified the Statement of Values with a greater than a 2/3 majority of weighted votes and 124 of 190 voting members responding. The HathiTrust Board of Governors reviewed the  results  earlier this week. Both the institutional and weighted vote came out in favor of the proposals. All 145 weighted votes were in approval of the statement.
We appreciate the continued level of engagement by the membership, especially during these trying times.  Incorporating these values into HathiTrust operations and policies strengthens HathiTrust in our third year of the 2019-2023 Strategic Directions plan.
Board of Governors Nominations Begin in July
HathiTrust will begin accepting nominations for candidates for the 2021 Board of Governors in early July and welcomes nominations from member institutions through July 26. Review the official notice of the 2021 election process, which includes detailed instructions for nominations and requirements of nominees.

The members of the 2021 Nominating Committee are:
Kenning Arlitsch, Montana State University (Chair) (HathiTrust member since 2014)
Janet Bishop, The Claremont Colleges (HathiTrust member since 2016)
Joe Lucia, Temple University (HathiTrust member since 2013)
Virginia Steel, University of California, Los Angeles (HathiTrust member since 2008)
Wade Wyckoff, McMaster University (HathiTrust member since 2018)
2021 Member Meeting: Community in a Time of Change
In response to the continuing impact of the pandemic and its effect on the academic library community, HathiTrust will again host the annual member meeting as a virtual event this coming October. The meeting will be open to anyone affiliated with a member library. 
Member Meeting: Thursday, October 21, 2021
1:00 PM EDT/10:00 AM PDT - 4:30 PM EDT/ 1:30 PM PDT
The past year has brought the challenges of change and the opportunities, as well as questions of access, sustainability, and equity. Responding to change and instigating ongoing change depends upon engaged individuals and entities. We'll consider how the idea and practice of "community" defines HathiTrust and its services, contests commonly held beliefs about our community, and how, in a new era of change, HathiTrust members can once again coalesce around directing outcomes for the betterment of academic libraries, the individuals we serve, and society at large. The complete agenda will be posted in the coming weeks.
In response to feedback from members, we'll be hosting community-led virtual sessions throughout the summer and fall instead of the condensed Community Week series that took place immediately following the 2020 member meeting. Keep an eye out for a schedule of events and registration.
Help Improve the New HathiTrust Book Viewer
As of May 10, 2021, logged in users can read books using the new HathiTrust book viewer. We are offering a number of methods to give us feedback about what you like and don't like about the new book viewer. We will be using this feedback to continuously improve the book viewer, with the goal to phase out the classic book viewer before the 2021 academic term. 
Please give us feedback using one of these methods: 
Respond to the brief Hotjar popup surveys that appear in the lower right corner of the new book viewer. Fill out the survey as many times as you have comments and feedback!

Complete the more detailed Qualtrics survey, which asks you to assess various aspects of the new book viewer. 

Participate in a usability study over Zoom. You will be asked to do several short tasks using the HathiTrust Digital Library website and will be asked questions about your experience and perceptions of the website. To sign up, select an appointment time slot that works for you on this Google Calendar. We will follow up with more details. 
Librarians! Share this call for feedback with your faculty and students whom you know use HathiTrust extensively. We want to ensure that the HathiTrust book viewer meets their needs in the coming academic year. 
Participate in the User Engagement Task Force Survey: Awareness & Support 
Designed to inform improvements to HathiTrust's outreach, communications, and training programs, the  HathiTrust User Engagement Task Force (UETF) survey aims to understand how well informed librarians are about HathiTrust services, collections, and programs and how they could be better supported in communicating with and supporting HathiTrust end users.
Any member library professional engaged in user-facing services — reference, outreach, liaison, or user services — is encouraged to complete the survey by June 23. Access the survey here: https://umich.qualtrics.com/jfe/form/SV_0wfuOU8ytHItqAK
Shared Print Group Access Capabilities 
As part of our commitment to develop new and innovative ways to benefit Member Libraries, HathiTrust started to look at quick ways to facilitate the sharing of our shared print materials without disrupting current resource sharing practices across all of our member institutions. At this time, we are happy to announce a HathiTrust Shared Print Group Access Capability (GAC). The use of a GAC is completely optional. 
An OCLC GAC consists of libraries that have agreed to certain terms of service when dealing with other members of the group and are able to use OCLC resource sharing systems. A GAC can assist in requesting materials from HathiTrust Shared Print Retention Libraries and searching for holdings across various OCLC systems. A GAC will appear not only for those items that have shared print commitments on them, but for all materials held at the GAC member libraries. 
The creation of the GAC was also spurred on to support retention libraries' discovery of shared print commitments in local OCLC workflows. Having a GAC enables retention libraries to see commitments within OCLC Connexion and Record Manager in different ways.  
You can find more information, including how to use the GACs, on our Resources for Retention Libraries website. 
From the Collection: In Praise of Insects
Caption: One of many colorful illustrations in the ninth volume of the ten-volume set of the 19-century Brehms Tierleben, titled "Insects, Millipedes and Moths."
Title: Brehms Tierleben; allgemeine kunde des thierreichs. ... vol. 9. 
Author:  Brehm, Alfred Edmund, 1829-1884.
Published: Leipzig : Bibliographisches Institut, 1893-1900. Contributed by University of California (HathiTrust member since 2008).
. . . And a Poetic Tribute to Brood X!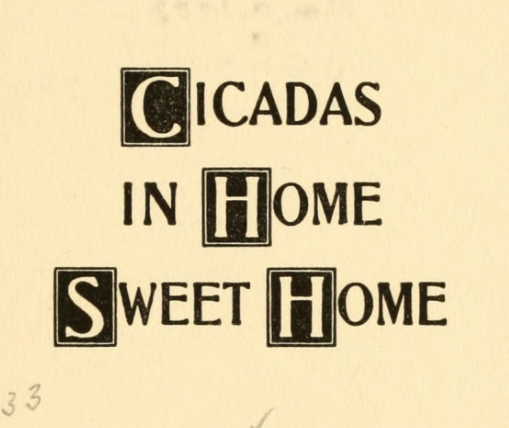 Caption: A collection of 14 sonnets centered on cicadas, the ecstatic dwellers mid the vines and trees.
Title: Cicada in Home Sweet Home
Author:  Lambourne, Alfred.
Published: Salt Lake City, UT. 1903. Contributed by LIbrary of Congress (HathiTrust member since 2011).
In the News, Publications, and Research:
In Hathitrust
, a poem
In Hathitrust , a poem by Amaris Feland Ketcham.  She teaches interdisciplinary liberal arts at the University of New Mexico Honors College. Her books include A Poetic Inventory of the Sandia Mountains, Glitches in the FBI, and Best Tent Camping: New Mexico. Her website is amarisketcham.com. Read the full poem here: https://library.unm.edu/awards/In%20Hathitrust.php