Welcoming New Members to HathiTrust
Welcome to Caryl Wyatt, Senior Front-End Developer
Metadata Quality Improvement Program (MQIP) Expands in 2023
2022 Member Meeting Wrap-Up: Recording & Notes
In Case You Missed It: User Collection Updates
HathiTrust Research Center: Register for Final Fall Workshop
HathiTrust User Support Holiday Hours
From the Collection: 100 Years of Ulysses

Welcoming New Members to HathiTrust
We are pleased to announce that The Catholic University of America and Clark University have joined the HathiTrust member community. See the full membership list on our website.
Welcome to Caryl Wyatt, Senior Front-End Developer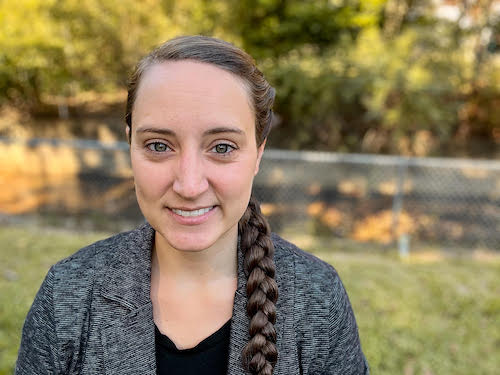 Caryl Wyatt joined HathiTrust in October in a new role as Senior Front-End Developer to focus on our large-scale digital library interfaces and to design solutions to meet the needs of users from around the world. Before joining HathiTrust, Caryl worked as the Technology Development Librarian at the University Libraries of the University of Alabama in Tuscaloosa, Alabama, and prior to that, as the Reference and Instruction Librarian at Ivy Tech Community College in Indianapolis, Indiana. 
Caryl is glad to be joining the team at HathiTrust and is "excited to jump into existing projects on the development team and lend a hand with the website redesign and collections visualizations." 
Join us in welcoming Caryl and read the full announcement online.
Metadata Quality Improvement Program (MQIP) Expands in 2023
After a successful pilot this summer and fall with seven member libraries, the Metadata Quality Improvement Program (MQIP) will expand in early 2023. The program supports contributing members in improving, correcting, and enhancing their own catalogs – the source records for all HathiTrust items. The effort stems in part from the Community Metadata Strategy Task Force, which recommended HathiTrust provide support for member libraries to improve metadata quality. 
MQIP will provide senior-level metadata and/or cataloging staff at approved institutions with collection-wide, full-text item access in order to support their work. Participating institutions must be willing to submit (or resubmit) their enhanced and/or corrected records for items they have deposited in HathiTrust; and institutions must have some kind of project in mind to start with for how to make use of this program. 
Participants at the University of California, San Diego, examined serials in the Scripps Institution of Oceanography Collection and added chronology to the enumeration for the out-of-copyright volumes so they could be opened up to full-text viewing. Tackling the print and digital divide, participants at the University of Virginia noted "being able to use [MQIP] to examine items that are otherwise only accessible via remote storage is a huge win." 
Thank you to all of our pilot libraries for helping develop and assess the program: Cornell University, Harvard University, Pennsylvania State University, University of California - San Diego, University of Illinois Urbana-Champaign, the University of Michigan, and the University of Virginia. 
A webinar and Q&A on this program will be held Thursday,January 19th, 2:00 PM (ET). Registration is forthcoming. In the meantime, please send any questions to Graham Dethmers, HathiTrust Metadata Analyst,  grahdeth@hathitrust.org. 
2022 Member Meeting Wrap-Up: Recording & Notes
With 142 people attending from 108 institutions, HathiTrust's annual member meeting on October 27, "Constructing Shared Culture: Building Vision, Values, and Strategies for the Future," centered on early conversations about HathiTrust's future strategic direction. 
You can watch the video of Mike's 2022 HathiTrust Executive Director Annual Report and each of the two parts of the member meeting: Part 1: A Conversation on HathiTrust's Directions with Mike and Virginia Steele (UCLA) and Part 2: Board of Governors Panel. The breakout room sessions were not recorded. 
Many thanks to those who attended or watched the videos. Your active participation helps ensure that we remain a member-led, member-driven organization serving the needs of academic and research libraries, as well as the public good. If you have thoughts about this year's meeting, questions about what you've heard, or any questions, please contact Jessica Rohr at jbelle@hathitrust.org.
In Case You Missed It: User Collection Updates
In the past few months, we've made a number of updates to personal and user-built collections. These include the following: 
More filter options in all user collections: This just-released feature allows you to filter your collection or collection searches by a number of filters. Use this to understand what's in your collection or focus a search on the most relevant categories.


Transfer your collections to another account: Are you moving to a different university and want to take your collections with you? Or did you build a collection and you need someone else to take over ownership of it for long-term maintenance? Now you can transfer that collection to a different account using the collection transfer feature.


More metadata fields available in collection metadata files: If you want to analyze the bibliographic features of a user collection outside of HathiTrust, you can download a fuller set of metadata fields describing the items in the collection. The metadata files include the full set of hathifiles fields. 

HathiTrust Research Center: Register for Final Fall Workshop
Registration is open for the last 2022 virtual HathiTrust Research Center (HTRC) workshop. You do not need to be affiliated with a HathiTrust member institution to attend and no experience is required for this introductory workshop. Contact htrc-help@hathitrust.org with any questions. 
Introduction to HathiTrust and HTRC (repeat of November 3 session)
Date: Thursday, December 1
Time: 1:00 pm ET/ 12:00 pm CT 
Duration: 2 hours
In this session, we will explore the basics of HathiTrust as a data source and how to utilize HTRC as a resource for text and data mining. The session will be helpful for those who want a general overview, or who want a solid foundation for the other workshops in the series. 
HathiTrust User Support Holiday Hours
HathiTrust User Support will be out of the office during the following United States holidays in the next few months. The team will still receive patron messages at support@hathitrust.org, but there may be some delay in response. The full-time staff of HathiTrust will also be taking holiday time and will respond to inquiries as soon as they are able.
United States Thanksgiving weekend from Wednesday, November 23 through Sunday, November 27, 2022.
Winter break from Wednesday, December 21, 2022 through Monday, January 2, 2023.
From the Collection: 100 Years of Ulysses
Caption:  HathiTrust preserves a first edition published by Sylvia Beach 100 years ago. The volume in the collection is identified as no. 876 in the original 1,000-copy run.
Title:  Ulysses
Author: Joyce, James, 1882-1941. 
Publisher: Paris: Shakespeare and Company, 12, rue de l'Odéon, 12, 1922. 
Contributed by University of California (HathiTrust member since 2008.)