Date: January 27, 2021
Impact of update: Everyone who opens a HathiTrust book
Outages or bugs: As a result of this update, some users who use older browsers encountered problems with single page downloads (resolved 2/1/2021) or viewing pages within books.
As part of ongoing efforts to improve the reading experience in the HathiTrust Digital Library, we made the following changes:
Page scan numbers are more prominently displayed
We deal with two kinds of page numbers in HathiTrust books.
The printed page number is added to the book during publishing, and we are not always able to get reliable printed page numbers. If journal issues were bound together by the library, sometimes one digital volume may have multiple page 35s, for example. Publishing quirks may have made it difficult for the page number detection process to accurately identify the page number.
When printed books are scanned and included in HathiTrust, we rely on the page scan number. The page scan number starts at 1 and often begins with the scan of the cover. Every page in the scanned book (whether it's blank, the title page, a duplicate, a plate without a corresponding printed number, etc.) gets a page scan number and allows you to link more accurately to the page you're referring to.
We've made the following changes to make page scan numbers more prominent in the interface:
They are displayed in a black box above or overlaying the page.
They are now the default entry in the Jump to Page Number feature
They appear at the beginning of your browser tab heading, to help you identify which tab has which page open, in cases where a book is opened in multiple tabs.
Source book: The native flowers and ferns of the United States in their botanical, horticultural and popular aspects, Volume 2.
Checkboxes to select pages for download
Previously, to select pages for download, you would click the corners of the pages to "dog ear" them. In this update, you now click in the checkbox to select the pages you wish to download. This feature is only available for books where you have download privileges.
New design: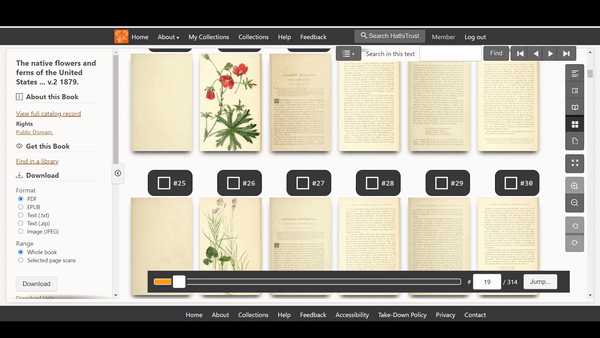 Previously:
More prominent and consistent focus style
For users who navigate websites using a keyboard, we have increased the contrast and size of the focus style. This makes it easier to find the link or button that is currently selected.

Banner messaging moves to sidebar
The message that informs you how much time remains in your checkout of a "temporary access" book has been moved to the sidebar. This provides more page display space for users with smaller screens.
Infrastructure changes to increase speed of page display
Traffic to our digital library has grown over the past year, due to many academic libraries closing their shelves to their patrons. We have been investigating solutions to increase the speed and performance of the website. In addition to adding additional web servers in the month of January, we changed how page images are delivered to end users. We continue to look for opportunities to improve speed and performance, knowing that this is a major issue for many users.