Engaging the Collection: By the Numbers
February 18, 2018
The HathiTrust collection experienced continued growth in 2017.
The collection size hit two big milestones in 2017, reaching 15 million works in February and 16 million in December.
1.2 million works were contributed by 37 partners.
27,634 works were opened through the Copyright Review Program.
5,705 works were opened with permission of the author.
The following bar chart shows the growth of works in the collection since 2008. Each year is broken down into limited-view works (in gray) and full-view works (in orange).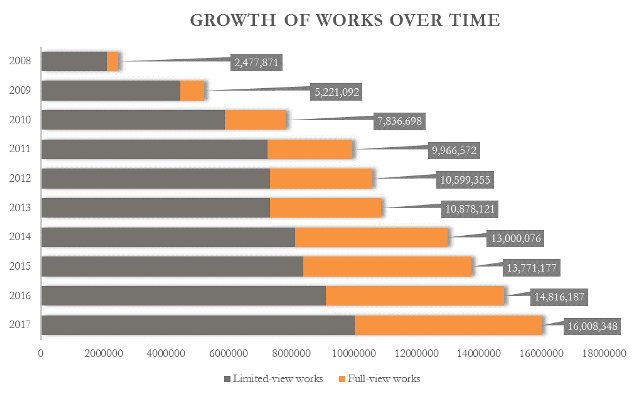 In this report, we are primarily attempting to track various indicators of engagement in order to start to understand how well we are meeting the needs of users. We begin by looking at all users of the HathiTrust Digital Library, and how those engagement metrics may vary based on different factors. Then we look into two separate subgroups, members and genealogists, and compare the activity of those users to all users.
For members in particular, we explore how to identify users using three different methods: logins with university accounts, on campus access, and referrals from university websites. Login data is the most accurate data, but by looking at users on a university network and users who are referred to HathiTrust from a university's websites, we can start to identify and track the broader world of member-affiliated users who aren't being tracked in the login data.
One of the key findings in this report is that referrals from websites (as opposed to direct traffic or using web search engines) tend to result in more engagement by users overall.
For more analysis and data, read the full report (PDF).