HathiTrust Members: Opening State and Local Agriculture Documents
May 7, 2019
Wealth of Agriculture Documents
HathiTrust Digital Library is a trove of preserved agriculture documents and traditional or historical practices. Several institutions have made these items available using a Creative Commons license, including a recent release of more than 1,000 agricultural bulletins and reports published by Michigan State University's Agriculture Experiment Station and Cooperative Extension Office.
Suzanne Teghtmeyer, Agriculture, AFRE, Botany, Forestry & Horticulture Librarian with Michigan State University Library, has been instrumental working with MSU to get the university's agricultural documents opened. MSU's story is part of a growing awareness among HathiTrust members that they can play an important role in securing rights information for their institution's own publications.
Document Collection: Agricultural Documents of Michigan State University
MSU Extension Bulletin 468: Michigan Agriculture. https://hdl.handle.net/2027/uiug.30112019644803?urlappend=%3Bseq=117
Ensuring Continuing Access
What was going on one hundred years ago to fight a disease, grow crops, or prepare food? The state publications of the Agriculture Experiment Station and Cooperative Extension Office preserve a wealth of information for researchers today. Most states produced them. The mission of land-grant institutions such as Michigan State University was to ensure continuing access to these documents for research and historical agricultural practices. Many are brittle and in need of preservation.
Localized Agricultural Research
Suzanne routinely gets calls from Agriculture Experiment Station personnel and Extension educators asking for access to older documents. Sometimes they're requested through interlibrary loan. Now that the collection is available to access through HathiTrust, patrons can be pointed directly to the HathiTrust online repository.
The agricultural documents of Michigan State University are a record of university research from the university's early days. The localized nature of the agricultural research highlights regional crops, so Michigan would have more information on cherries and blueberries. For someone wanting to grow those crops using a heritage method, the collection gathers options for those not interested in using modern technologies.  The information is tailored to the growing conditions and thus is very state and region oriented.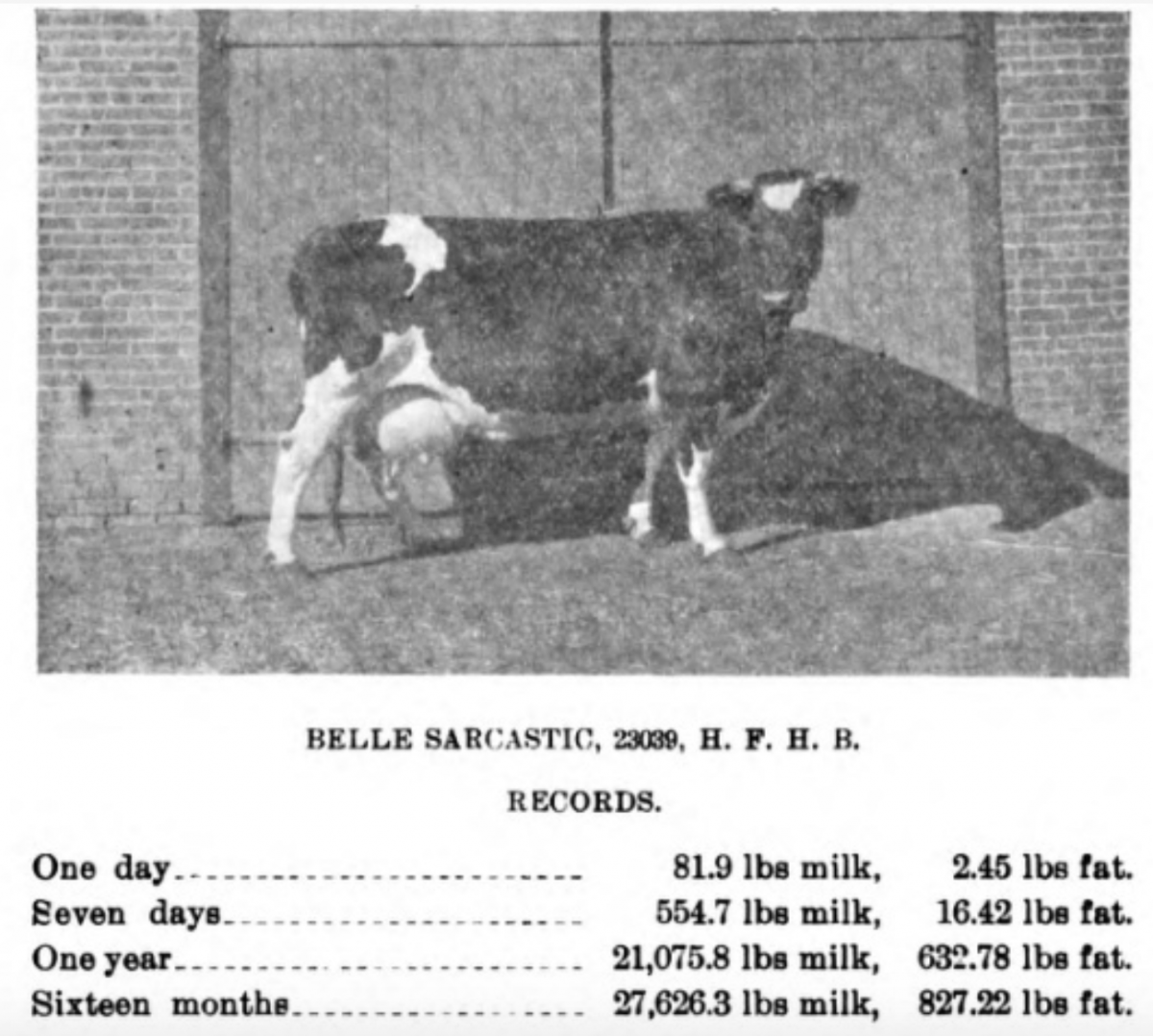 Belle Sarcastic, the record holding milk producer. Annual report of the Agricultural Experiment Station, Michigan State University. Vol. 9, 1896. https://hdl.handle.net/2027/uc1.$b647868?urlappend=%3Bseq=266
Copyright Challenges
Unlike federal documents, state publications published after 1923 may be protected under copyright law. They remain categorized as such, and thus in limited view in HathiTrust, unless individually reviewed for copyright status or opened with a Creative Commons license. Many of these agriculture documents were freely disseminated to the public at the time of publication. In recent years there has been a big push to get all the bulletins and circulars digitized, preserved, and released to the public.
The biggest challenge for Suzanne was in finding and identifying the rights holder of the documents. She didn't know if that would be the Director of the Agricultural Experiment Station, Dean of the College of Agriculture, or the University Board of Trustees. After speaking with the Library's copyright librarian, Suzanne reached out to MSU Technologies, the technology transfer and commercialization office who manages the university's extensive intellectual property portfolio. They in turn reached out to the agricultural deans for guidance and permissions, and once they received it, the Creative Commons license was signed.
"The National Agricultural Library is also in support of public dissemination of these documents," says Suzanne.  "It makes the nation stronger in the realm of food and livestock production. If they know which states have experiment station bulletins available in HathiTrust they can direct people to find the open access information."
To view all MSU agriculture documents both Creative Commons licensed and public domain, see the collection Agricultural Documents of Michigan State University
HathiTrust Members Act to Open More Ag Docs
HathiTrust members Cornell University, Texas A&M, and the University of California have all been actively improving access to agricultural documents through Creative Commons licensing agreements for open access.  For a good summary of how to get your agricultural documents open in HathiTrust see "Opening Ag Pubs in HathiTrust" by Cornell University, University of California, and the California Digital Library, https://sites.google.com/view/open-pubs-in-ht/home.  Also see McGeachin, Robert B. 2017. "Set Your Agricultural Publications Free in the HathiTrust Repository." Journal of Agricultural & Food Information, 18:1, 3-8, DOI: 10.1080/10496505.2016.1263201 . https://pubag.nal.usda.gov/catalog/5621977
If you are interested in working with HathiTrust to get your institution's publications open with a Creative Commons license, Kristina Eden of HathiTrust will present a webinar with tips for compiling a list of items and working with your institution to seek permission.
"Opening Your Institution's Publications in HathiTrust"
May 30, 2019 from 2-3pm ET
Kristina Eden, Copyright Review Program Manager
No registration required. Anyone with the link can join: https://bluejeans.com/957875719