What's in your collection?
June 6, 2012
Are you familiar with the Collections area of HathiTrust?
http://babel.hathitrust.org/cgi/mb
There are currently 940 public collections created by users and library staff members at partner institutions, including several we have featured. HathiTrust collections provide a way to aggregate digital items related to a common theme, or associated with a given physical collection or location (for instance, the University of Michigan has created a collection of its Hatcher Graduate Reference reading room). Items can be added to a collection from HathiTrust full-text search results pages. Once they have been added to a collection, the full-text and bibliographic metadata of items can be searched independently of the larger repository. Items in collections can also be quickly copied to new or existing collections. These features make collections an easy way to refine a set of search results, share batches of items with others, or (in the case of the Michigan Graduate Reference collection), allow staff and users to search within specific collections to find the book with that one particular index or obscure term that they can pull from the shelf for more information.
Staff at some of our partner institutions have been talking about how great it would be to have even more high-quality collections to help demonstrate the usefulness of this feature (and be used!). We'd also like to explore how this kind of feature could better support library needs.
It's easy to create a collection
Once you are logged into HathiTrust (either as a member of a partner institution or using a University of Michigan Friend Account), you can easily create collections when viewing a volume or from full-text search results as shown below: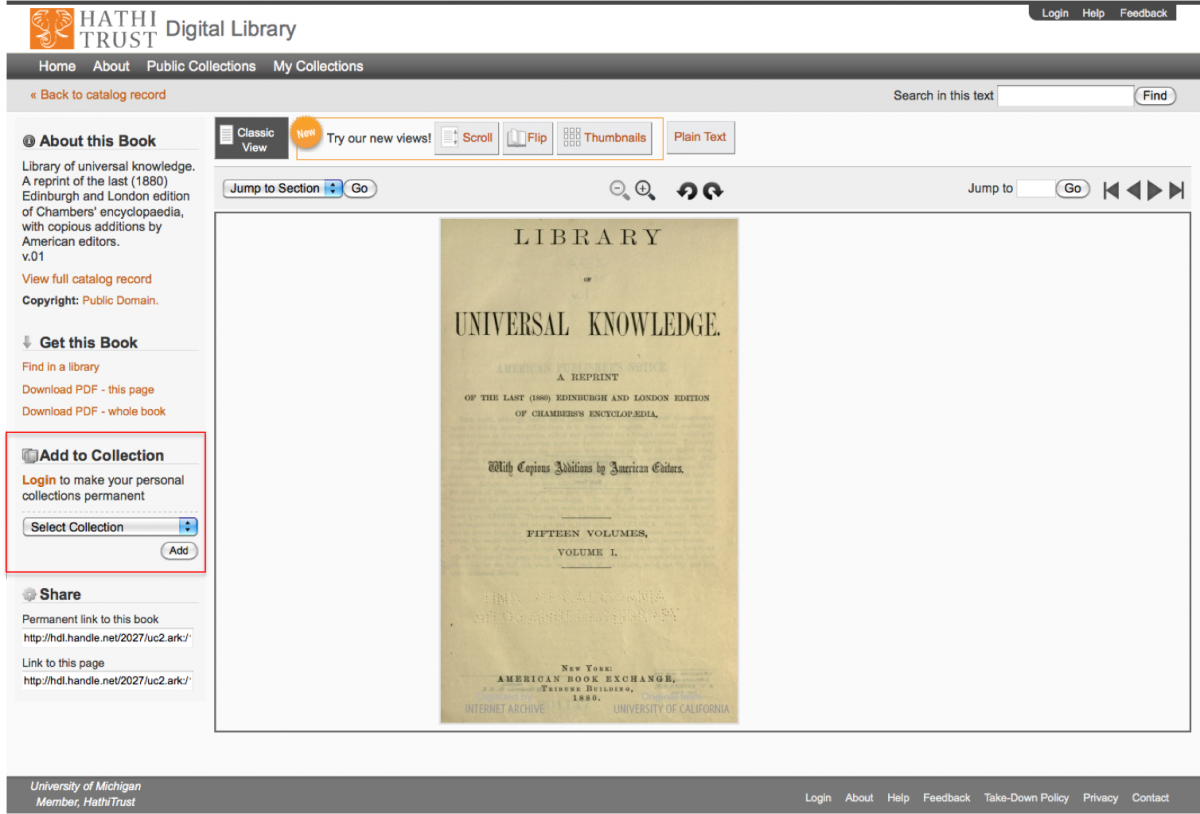 We can help
Because large collections can be somewhat cumbersome to create manually, we can work with you to help build them! To create a custom collection, we need to know the specific the items that are desired to be included. We can work from a list of item identifiers, or from one or more search queries. Item identifiers for large collections, or collections made from criteria that are not easy to search for can be obtained using one of the methods below:
HathiTrust's tab-delimited metadata files. These files are an inventory of repository holdings, containing a variety of identifiers for volumes (ISBN, LCCN, OCLC, etc.), copyright information, and limited bibliographic metadata for each volume in HathiTrust. Read a description of the Hathifiles.
HathiTrust Data API. In addition to retrieving entire volume packages from HathiTrust (including images and OCR), the Data API can be used to find ids for volumes digitized from a particular source. The University of Michigan has built a demonstration application using the Data API that illustrates how this can be done. Please see http://www.lib.umich.edu/two-over-threehundred.
Custom collections
Here are some examples of collections that have been custom-built. If you haven't yet become familiar with our Collections feature, give it a try. If you are, and have some great ideas for collections but have had trouble making them, give us a holler and we can point you in the right direction or help you create it.
Note that once collection(s) are built, we will transfer ownership to the requester so the collection(s) can be updated and maintained.
Please contact support@hathitrust.org with any questions or to get started!