Service Interruption Resolved
August 30, 2023
Final Update: August 30, 2023
Thank you for your patience during our recent service interruption due to the network outage at our University of Michigan data center. We are happy to inform you that the issue has been resolved and we have resumed normal operations. If you sent a request to our user support team, we are working through those reported issues. If you continue to experience access issues within the digital library, please submit a help ticket via support@hathitrust.org or by opening a ticket via the Get Help link on our website.
Update #3: August 29, 2023
2:48 pm ET
Our digital library is available for your use, but you will continue to experience service interruptions due to an ongoing network outage at the University of Michigan, where one of our data centers is located. The University of Michigan chose to disconnect its campuses from the internet on August 28 to address a "significant security concern," which remains under investigation.  For more information you can read  announcements from the University and a message from Santa Ono, President of the University of Michigan. 
We apologize for the continued disruption. We do not yet have a timeline for a return to normal operations, but we will continue to provide updates here and on social media.
Read the message below for instructions on accessing titles during this interruption.
Update #2: August 28, 2023
Our digital library is available for your use, but you may  experience service interruptions due to an unplanned, local network outage at one of our data centers. We apologize for any disruption you may be experiencing with HathiTrust services and service support. We are evaluating service impacts and addressing them as we can. At this time, we cannot estimate when services will be completely restored. 
We have more specifics on services and suggestions for how to search and access titles in the library during this interruption are below. Thank you for your patience.
Communicating with HathiTrust User Support
We cannot currently receive nor respond to help tickets received via support@hathitrust.org nor via the "Ask a Question" or "Report a Problem" links on our website. While we can receive help tickets created through the HathiTrust Help Center, we will not be able to respond to these tickets until our network connection is restored. You may continue to report issues using the Help Center, but our response will be delayed.
Searching the HathiTrust Digital Library
To ensure access to the books in the collection, users should search the Collection using only the "Full text and All Fields" search option. Using Advanced Search, users can select the "Always use the Full Text Index" checkbox.

Accessing Titles in the HathiTrust Digital Library 
Permanent title links beginning with hdl.handle.net will not work during this service interruption. This includes links from library catalogs, bookmarks, and saved URLs.
Using a modified URL and a unique HathiTrust ID identifier for the title, you can still access the title. Each HathiTrust ID (or Book ID) is unique. You can determine the HathiTrust ID for a specific book following the steps below:
Determine the HathiTrust ID for a specific book by first searching for the title in the Collection using the Search bar.


     2. Go to the catalog record of the title and find the Item Link under Viewability. Right click on the Item Link to retrieve the permanent link to that title.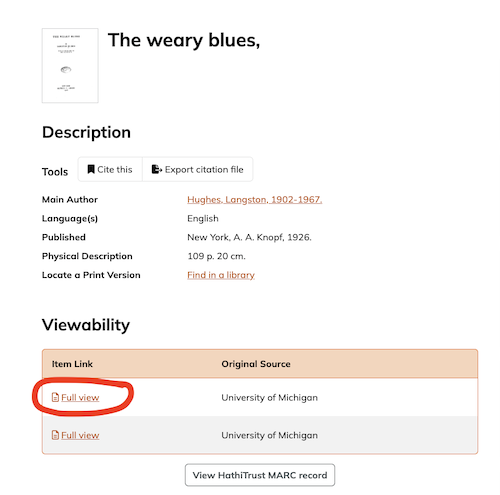 3. The HathiTrust ID will be the last part of the URL (usually a combination of numbers and letters) after /2027/.
https://hdl.handle.net/2027/mdp.39015003918763
                4. To create a working link, modify the URL as follows and enter into your browser's search bar:
https://babel.hathitrust.org/cgi/pt?id= [insert HathiTrust ID]
To modify additional permanent title links, use the following URL and add the HathiTrust ID to the end:
https://babel.hathitrust.org/cgi/pt?id= [insert HathiTrust ID]
ORIGINAL POST 8/28: Due to a local network outage, you may experience service interruptions including communicating with us for help and accessing titles in the library. We apologize for the inconvenience and will provide updates here.