Jennifer Vinopal Joins HathiTrust as First Associate Director
April 19, 2023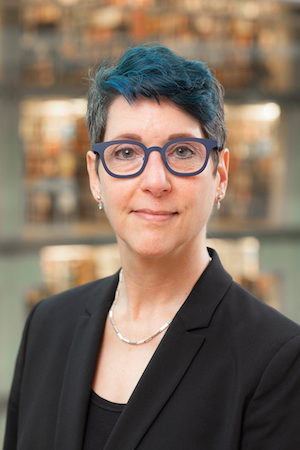 January 24, 2023
HathiTrust is pleased to announce that Jennifer Vinopal has been appointed HathiTrust's first Associate Director.
Vinopal will assume a key leadership role at a pivotal moment in HathiTrust's 15th year with responsibility for day-to-day activities and integrated development of HathiTrust's programs and services. Reporting to Executive Director, Mike Furlough, she will lead the expansion of critical operations activity to align resources and strategic priorities.  "I can't wait!  We are so fortunate that Jennifer will join HathiTrust this spring," said Furlough. "She comes to us at exactly the right moment, as we begin to reexamine our strategic directions for the next few years, and with her energy and breadth of experience, I know that she will be a big part of our future success."
Vinopal is currently Associate Dean for Distinctive Collections and Digital Programs at The Ohio State University, where she has provided direction for University Libraries special collections, area studies, and exhibitions. She has also supported the development of various commercial and open-source IT projects, digital preservation, web development, content management and discovery services, and information security.  Vinopal has been co-chair of the Big Ten Academic Alliance Digital Strategies and Information Technology Services working group and a member of the Board of Directors of the Educopia Institute.
"I've seen firsthand the enormous impact that HathiTrust has had on the profession and the scholarly community at large, so I'm excited by this opportunity to contribute to the next chapter of its development," says Vinopal. "I look forward to working collaboratively in a mission-driven environment focused on advancing core professional values of content sharing, developing shared and sustainable infrastructure, and collaboratively stewarding digital and print collections. I am thrilled to be joining HathiTrust at this moment in time to help create the impact we want to see in our institutions and communities."
Prior to joining Ohio State, Vinopal worked at New York University where she developed services to support digital scholarship and digital library initiatives. Her library background includes humanities scholarship, library collection development, digital library and digital scholarship initiatives, and library public service.
Vinopal was appointed following a national search by Koya Partners, part of Diversified Search Group. She will join the organization in mid-March.