Welcoming Two New Members to the Board of Governors
October 6, 2023
The members of HathiTrust have elected Holly Jeffcoat, Southern Methodist University (SMU), and Lorrie McAllister, Arizona State University (ASU)  to its Board of Governors for three-year terms running from January 1, 2024 to December 31, 2026.  The proposed 2024 Budget was also unanimously approved by members participating in the vote.
Claire Stewart, Dean of Libraries at the University of Illinois Urbana-Champaign and Chair of the HathiTrust Board of Governors, welcomes the new board members. "As we move beyond our 15th year, HathiTrust needs visionary, creative, and flexible library leaders to help bring the most value and service to our members and users at large. Holly and Lorrie embody these qualities in a crucial time as we finalize the organization's strategic vision and prepare to execute on its goals."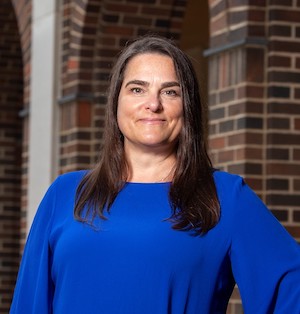 Holly Jeffcoat, Dean of Libraries at SMU, says "In my ten years as a HathiTrust member representative over three institutions, I have witnessed the crucial role HathiTrust plays in members' strategic approach to scholarly research and collection development strategies. HathiTrust enriches our community's reliable access to the wide array of available scholarly resources as well as the expert training and tools to delve deeper to find new meaning from the collected collection. I look forward to serving on the Board and adding a new voice to the organizational governance as we engage members and continue to leverage the potential of HathiTrust." Jeffcoat also brings her expertise in strategic leadership, planning, and future-focused curiosity to her roles on the boards of the Texas Digital Library (TDL) and Greater Western Library Association (GWLA).
Lorrie McAllister, Associate University Librarian for Collections Services and Analysis at ASU, offers years of experience in myriad leadership roles from collections to technology administration. "HathiTrust is at a crossroads and must set its course among the confluence of several converging efforts: the current strategic visioning effort, maturation of shared print programs, and the ongoing development of standards and tool sets for shared collections. As our discipline responds to these challenges, HathiTrust can leverage its assets, people, and resources, to transform its services and ensure equitable and inclusive access to scholarship, as well as collaborative collections preservation. I am excited to work with all stakeholders to forge a pathway for the organization."
Departing the Board at the end of 2023 will be Anne Houston (Swarthmore College) and Holly Mercer (University of Tennessee, Knoxville).  Shortly after being named Incoming Chair, Holly assumed the role as Chair of the Board of Governors due to the early departure of the previous chair.  She was an outstanding partner during her 18 months as Chair.  Anne has contributed to HathiTrust for many years, including her time on the Program Steering Committee, as a member of HathiTrust Research Center's Community Advisory Board, and on the current Strategic Visioning Task Force. HathiTrust is without a doubt in a better place today as a result of their thoughtful leadership. 
The HathiTrust Board of Governors has ultimate responsibility for HathiTrust's activities, strategy, finances, and operations. It includes six at-large members elected by the membership and six members appointed by the founding institutions, which include Indiana University, the University of California, the University of Michigan, and the members of the Big Ten Academic Alliance. The current members of the Board and their terms follow:
Gohar Ashoughian, Wilfrid Laurier University (2023-2025)
Theresa Byrd, University of San Diego (2022-2024)
Lisa Carter, University of Michigan (appointed)
Diane Dallis-Comentale, Indiana University (appointed)
Mike Furlough (HathiTrust), ex officio
Anne Houston, Swarthmore College (2022-2023)
Damon Jaggars, The Ohio State University (appointed)
Holly Mercer, University of Tennessee, Knoxville (2020-2023)
Beth Namachchivaya, University of Waterloo (2022-2025)
Virginia Steel, University of California, Los Angeles (appointed)
Denise Pan, University of Washington, ex officio, Program Steering Committee Chair
Claire Stewart, University of Illinois at Urbana-Champaign (appointed)
Günter Waibel, California Digital Library (appointed)
Xuemao Wang, Northwestern University (2022-2024)
News post image from Voting systems in agricultural cooperatives by Clement E. Ward, Vernon E. Schneider, and Ramon Lopez. Washington, D.C., Dept. of Agriculture, Economics, Statistics, and Cooperatives Service, 1979.