How to Search & Access
Find what you are looking for or discover something new among the 18+ million items in HathiTrust's Digital Library by learning the basics of how to search and access the collection. Whether you're pursuing a specific title or exploring a broad category, understanding how to look for items and how to access them is essential to getting the most out of our massive collection. 
You don't need to log in or have an account to search in HathiTrust, and up to 40% of the collection is available for anyone to read online. Check out the overview on search and access below and explore how-to articles in the HathiTrust Help Center for even more tips and tricks.
HathiTrust Access Basics
Access to items in HathiTrust's digital library includes access for
Reading 

Searching 

Downloading

Researching
Your access to HathiTrust items depends on a number of factors including whether or not an item is restricted by copyright, your geographical location, your affiliation with a member library, and your log in status.
HathiTrust is not a subscription service and does not license the content in the digital library for lending purposes. Instead, member libraries contribute digitized items for preservation and HathiTrust makes those titles available for you to access to the fullest extent allowable by law. Because of copyright law, no one is permitted reading access to copyrighted items in HathiTrust — including the member library contributing the copyrighted item — except when eligible through emergency access or services for people with disabilities.
Log in to HathiTrust
You are not required to be a member nor have an account to access HathiTrust. However, members who log in using their institutional login and password obtain the member benefits listed below. Individuals who create a Guest account to log in may also create and save personal collections. See a list of HathiTrust Member Libraries and learn how to log in as a member or a guest.
HathiTrust Access Chart
Everyone includes individuals, as well as independent researchers, journalists, and genealogists. Individuals are not eligible for HathiTrust membership.

Members are the faculty, staff, and students affiliated with a member library. HathiTrust membership is held by a library, not an individual.
What Can You Do With HathiTrust?

| | | |
| --- | --- | --- |
| What Can You Do With HathiTrust? | Everyone | Members |
| Read public domain and open access titles (Full View) | Yes | Yes |
| Read copyrighted titles (Limited View (search only)) | NO | NO |
| Search the full text of the entire collection | Yes | Yes |
| Download public domain and open access titles digitized by Google (95% of collection) | 1 page at a time | Full PDF or other format |
| Download public domain and open access titles not digitized by Google (5% of collection) | Full PDF or other format | Full PDF or other format |
| Create and save personal collections (with member or non-member log in) | Yes | Yes |
| Use Text and Data Analysis Tools (via HTRC) | Basic services | Advanced services |
| Access for users who are blind or print disabled* | No | Yes |
| Access to copyrighted titles during library emergencies* | No | Yes |
*1) Accessible Text Request Service (ATRS). If you are blind or have a print disability and are affiliated with a HathiTrust member institution using ATRS, you can request a copy of any copyrighted book in the HathiTrust collection.
2) Emergency Temporary Access Service. When in use by a member library, this service permits access to copyrighted titles within specific Terms of Service.
For more information on copyright status and how it impacts your access to items in the collection, see the Access and Use Policy.
HathiTrust Search Basics
You can access the search bar from every page of the website and digital library. Expand the search bar by clicking on the Search link in the site header. There are two basic options to begin your search: 
Search the Website: Search the content of the HathiTrust information website using keywords. This DOES NOT include the digital library content that you find in the Collection.
Search the Collection: Search texts in the HathiTrust Digital Library collection using the methods listed below. By default, your search results will include all the texts that are available to you to access online — known as "Full View" — limited by the search terms that you apply. These titles are available for you to access because they are in the public domain or licensed as open access. To also include texts that are restricted by copyright in your search results, specify "All Items" under "Item Viewability."
Search Using Keywords
Keyword search allows you to search for topics, quotes, names, places, or phrases in both the information Website and the Collection.
Search Options in the Collection
When searching the Collection you can search

Full Text & All Fields

to search

all the text of all the volumes in the entire digital library

including book information such as Title or Author.

Narrow your search to only book information, such as Title, Publisher, and Author, by choosing

All Fields

indicated in the dropdown menu options. Use other

specific fields

in the dropdown menu when you know the exact Title, Publisher, Author, or other book information.

Selecting Advanced Search allows you to select multiple fields for a combined search enabling more detailed searching. 
You can also search inside collections of works that you or others have created (See Featured Collections). When reading a book, use keywords to search inside that volume.
See the HathiTrust Help Center for more details on Searching the Collection.

What Else Can I Do With HathiTrust?
Searching and accessing items in the digital library is just the beginning. We have a number of tools and features to help you organize your research within the digital library, explore big questions at a massive scale, and support due diligence in academic environments. Some are available through the HathiTrust Digital Library while others are available through the HathiTrust Research Center, and some you can use together.
Create Collections 
Got a list of items you want to save in the digital library? Create a subset of our larger collection for your own purposes, and never lose your items again! You'll need a member or guest log in to create and save your collection. You can import the collection as a workset into HathiTrust Research Center for text analysis, use your collection to build bibliographies for your research, share curated reading lists with your class, or search within your collection. Learn how to create your own collection.
Cite Your Sources
Use the citation tools in an item's Catalog Record to generate correctly formatted citations in either APA or MLA format. HathiTrust also integrates with your Zotero browser extension to easily pull information about HathiTrust resources into your citation manager. 
Embed a HathiTrust Title
To liven up your digital projects and make your research resources easier for readers to find, embed a HathiTust title you're using into your web content. Follow these step-by-step instructions to insert a book.
Dig Deeper with the Research Center
The HathiTrust Research Center exists to help both novice and advanced researchers dig into the digital library. Access the tools below, as well as tutorials and other documentation, on HTRC Analytics.
Visualizes word trends in millions of volumes held by HathiTrust. It enables scholars to discover new textual use patterns across the entire corpus, including copyrighted and public domain volumes.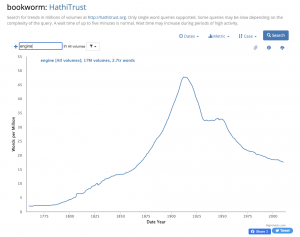 Algorithms
HTRC Algorithms are click-to-run tools for text analysis. They require no programming, and researchers can set the parameters for their analysis. You can use algorithms to explore HathiTrust worksets, which are groups of titles from the collection. 
Explore More Data
To work with the collections' data at a deeper level — from metadata contributed by libraries to the very words themselves — we offer data pathways for researchers and librarians.  We provide this data in a number of formats so you can discover, identify, interpret, or manage the content.
Datasets: A full-text file of specified public domain items are available by request and may be used offline.  HTRC also has several pre-made datasets that do not require approval for use. 
Worksets:  You can create a smaller collection of HathiTrust titles using the Collection Builder and then analyze using HTRC services.
hathifiles: Metadata describing all works in the HathiTrust collection are available for download as tab-delimited files.
Other Data: The Bibliographic API allows real-time querying against the HathiTrust collection on a known identifier for brief or full bibliographic records. Other data management tools can help librarians make HathiTrust items more discoverable.